A degree of uncertainty surrounds the origin of the English word, "saffron." It might stem from the 12th-century Old French term safran, which comes from the Latin word safranum. Safranum comes from the Persian intercessor زعفران, or za'ferân. Classical Persian is the first language in which the use of saffron in cooking is recorded, with references dating back thousands of years。
Saffron's taste and iodoform- or hay-like fragrance result from the chemicals picrocrocin and safranal. It also contains a carotenoid pigment, crocin, which imparts a rich golden-yellow hue to dishes and textiles. Its recorded history is attested in a 7th-century BC Assyrian botanical treatise compiled under Ashurbanipal,[ and it has been traded and used for over four millennia. Iran now accounts for approximately 90% of the world production of saffron.
History
Saffron-based pigments have indeed been found in 50,000 year-old depictions of prehistoric places in northwest Iran.The Sumerians later used wild-growing saffron in their remedies and magical potions. Saffron was an article of long-distance trade before the Minoan palace culture's 2nd millennium BC peak. Ancient Persians cultivated Persian saffron (Crocus sativus 'Hausknechtii') in Derbena, Isfahan, and Khorasan by the 10th century BC. At such sites, saffron threads were woven into textiles, ritually offered to divinities, and used in dyes, perfumes, medicines, and body washes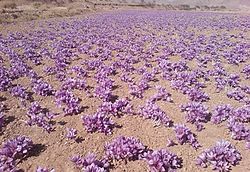 Grades
Saffron is not all of the same quality and strength. Strength is related to several factors including the amount of style picked along with the red stigma. Age of the saffron is also a factor. More style included means the saffron is less strong gram for gram, because the colour and flavour are concentrated in the red stigmas. Saffron from Iran, Spain and Kashmir is classified into various grades according to the relative amounts of red stigma and yellow styles it contains. Grades of Iranian saffron are: "sargol" (red stigma tips only, strongest grade), "pushal" or "pushali" (red stigmas plus some yellow style, lower strength), "bunch" saffron (red stigmas plus large amount of yellow style, presented in a tiny bundle like a miniature wheatsheaf) and "konge" (yellow style only, claimed to have aroma but with very little, if any, colouring potential.
High quality saffron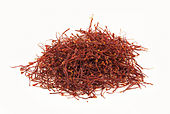 Red threads and yellow styles